Meet Attorney Christopher K. Rodeman
Rochester Criminal Defense Lawyer Fighting for Your Rights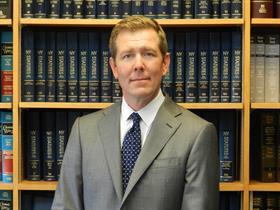 Attorney Christopher K. Rodeman has built a career on his commitment to the Rochester community. As a former prosecutor, his wealth of knowledge within the criminal justice system is now at work for his clients. Working his way up, Mr. Rodeman's years with the District Attorney's office was spent gaining the type of relationships and knowledge he would later utilize in his own practice. Now as a criminal defense attorney, he is able to successfully defend his clients in an informed and unique way that other attorneys without his experience are not able to duplicate.
As a former prosecutor Mr. Rodeman tried 9 murder cases and had a supervisory position with the DWI Bureau, overseeing all of the felony DWIs that came through the District Attorney's office. This high-level experience on the side of the prosecution gives Mr. Rodeman an all-encompassing understanding of trial proceedings. Having once been in the shoes of the prosecution, he is able to anticipate their tactics against his criminal defense clients and stay one step ahead of the opposition as a result.
Mr. Rodeman now has 20 years of experience spanning his entire legal career. Attorney Rodeman takes pride in his ability to defend his clients in a confidential and professional way. His philosophy of open communication between himself and his clients has shown to be a critical part of his practice that has helped to yield desirable results in each of the criminal cases he takes on.
Attorney Rodeman proudly practices the following areas:
Mr. Rodeman's Legacy
Throughout Mr. Rodeman's career in the legal field, he has handled hundreds of cases, doing so with the kind of compassion that situates individuals as innocent until proven guilty. Too often, individuals charged with criminal offenses are assumed guilty without any due process. In this regard, Mr. Rodeman thrives off his commitment to the community, protecting those he serves by ensuring their rights are upheld throughout the criminal justice system.
Christopher K. Rodeman has garnered attention for high profile cases in the news, including:
Contact Us Today
If you have been charged with a criminal offense, contact Mr. Rodeman attorney at law today for unique and knowledgeable legal counsel. Our firm will do everything we can to ensure that your rights are protected.
Please contact us if you have been charged with a criminal offense to ensure you are given the best defense in and outside of the courtroom. Schedule a free case evaluation with our Rochester criminal defense attorney today.